MLB 2020 Draft Eligible Marius Balandis, Saint Louis University:
Here we are taking a deeper look at one of the top power right-handed pitchers coming out of the Atlantic 10 conference in the 2020 MLB Draft class.




Marius Balandis is a junior RHP at Saint Louis University standing at 6'2 and 200 lbs. Balandis is a power throwing right handed arm that can pitch out of the bullpen or be a starter as he has been in both those roles at JUCO and in Division 1 Baseball. Balandis is one of the best prospects to be born in Lithuania now playing in the US.




His freshman year at Iowa Western CC in 2018, the team was ranked as high as #4 in the nation in JUCO baseball with a 44-16 overall record. Iowa Western won the Region XI regular season championship, with Balandis being a big part of it, as he made 11 appearances with 9 starts going 6-1 in 38.2 innings while striking out 42 with an ERA of 3.72 ERA.




In 2019, as a sophomore at Iowa Western CC, the team went 54-7 overall being ranked #2 in the nation in JUCO, while winning the Northern District Championship and earning a sixth place finish in the JUCO World Series. Balandis was named on the All-Region XI team after he made 12 appearances with 3 starts going 4-1 with one save along with 33 strikeouts in 21.2 innings of work.




In the summer of 2019, Balandis played for the La Crosse Loggers in the Northwoods Collegiate Summer League where he made 7 appearances going 2-1 with a 3.44 ERA in 15.2 innings while striking out 14. Balandis then went back to his home country to play with the Lithuanian National Team in the European Championships.




In 2020, Balandis was playing his junior season at Saint Louis University which is where he transferred into after two great years at Iowa Western. Balandis was tabbed to be the closer this year for Saint Louis, as he made 6 appearances with one start earning one save with 13 strikeouts in 11.2 innings of work with an ERA of 3.09 before the COVID-19 pandemic ended the season. Saint Louis was 10-6 overall to start the year.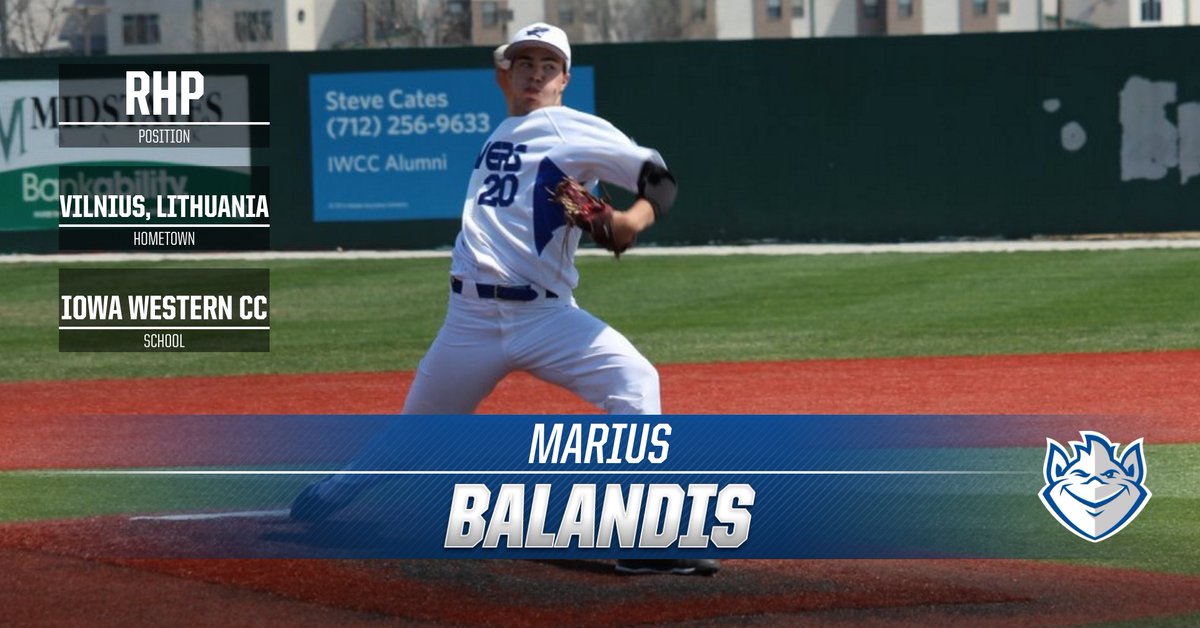 After moving to the United States his senior of year of High School to attend St. Laurence High School, Balandis has shown he has what is takes at each level he has played over here. He was ranked as high as #17 in the state of Illinois in his senior year of high school by Prep Baseball Report. He was a premier arm in the JUCO circuit for two years at a powerhouse program in Iowa Western CC, where he averaged 11.19 strikeouts per 9 innings of work. Along with being very dominate this year as closer and a starter at the Division 1 level at Saint Louis.

Balandis has a fastball that ranges from 91-93 mph topping out at 95 mph, a slider range that is 81-83 mph and a change-up range that is 80-82 mph. Balandis if not selected in this years 2020 MLB Draft will no doubt have a lot of MLB scouts watching him in the years to come as he has a very polished three pitch mix showing he can get it done overseas in his home of Lithuania and here in the US against top level collegiate hitters.