by Matt Plante
Vice President

NCAA Division 1 Regionals: Top Tier Alumni Roundup:
This week we got to see eight of our Top Tier alums take part in the NCAA Division 1 Tournament in all different Regional action. Unfortunately they were all eliminated this past week, but here is how they all performed.




Stillwater Regional:

Dakota Kotowksi, Missouri State


Kotowski went 1 for 12 in the Regional with a homer and 2 RBI's. The Bears lost in the opening game vs. Oklahoma State then came back to beat Grand Canyon only to lose again to Oklahoma State and finished the year 31-29 overall. Kotowski finished the year hitting .242 with 5 doubles, 24 homers, 52 RBI's and a slugging % of .587.

Gainesville Regional:

Nick Ficarrotta, Florida


Ficarrotta made one relief appearance for the Gators throwing 2.1 innings vs. Oklahoma in their first matchup of the weekend where he gave up 3 runs on 4 hits and 2 walks while striking out 4. Florida beat Central Michigan in the opener, then lost to Oklahoma, then beat Central Michigan again and Oklahoma to force a winner take all game vs. Oklahoma yesterday. Florida lost in the Regional Championship to Oklahoma and finished the year 42-24 overall. Ficarrotta finished the year 4-0 with 3 saves in 28 appearances with a 3.90 ERA in 60 innings pitched with 63 strikeouts.

Stephen Hill, Liberty


Hill went 1 for 8 with a double and 2 RBI's in the Gainesville Regional. Liberty lost to Oklahoma in the opener and Central Michigan in the elimination game to finish the year 37-23 overall. Hill finished the year hitting .258 with 12 doubles, 5 homers and 48 RBI's.

Louisville Regional:

Collin Wilma, SEMO


Wilma got the start vs. Oregon in the elimination game of the Louisville Regional. He took the loss going 1.1 innings giving up 6 runs off 6 hits and 1 walk while striking out 1. SEMO lost Louisville in the opener and lost to Oregon in the elimination game to finish the year 37-22 overall. Wilma who was coming back from injury started to pitch sparingly at the end of the season, and his stats for the year were he was 0-3 in the 5 games he started with a 14.40 ERA in just 10 innings of work with 6 strikeouts.

Coral Gables Regional:

Renzo Gonzalez, Miami


Gonzalez went 0 for 5 in his appearances in Regional action. Miami won their opener vs. Canisius but then lost to Ole Miss and Arizona to finish the year 40-20 overall. Gonzalez finished the year hitting .246 with 2 doubles, a triple, 2 homers and 7 RBI's.

Blacksburg Regional:

Will Parkinson, Columbia


Parkinson made one relief appearance vs. Virginia Tech going 1.1 innings giving up 0 runs off 0 hits and 1 walk while striking out 3. Columbia won their opening round game vs. Gonzaga, then lost to Virginia Tech, then beat Gonzaga, only to lose to Virginia Tech in the Regional Finals game and finish the year 32-18 overall. Parkinson finished the year making 9 appearances with 2 starts, having a 7.94 ERA in 11.1 innings pitched with 12 strikeouts.

College Park Regional:

Cam Minacci, Wake Forest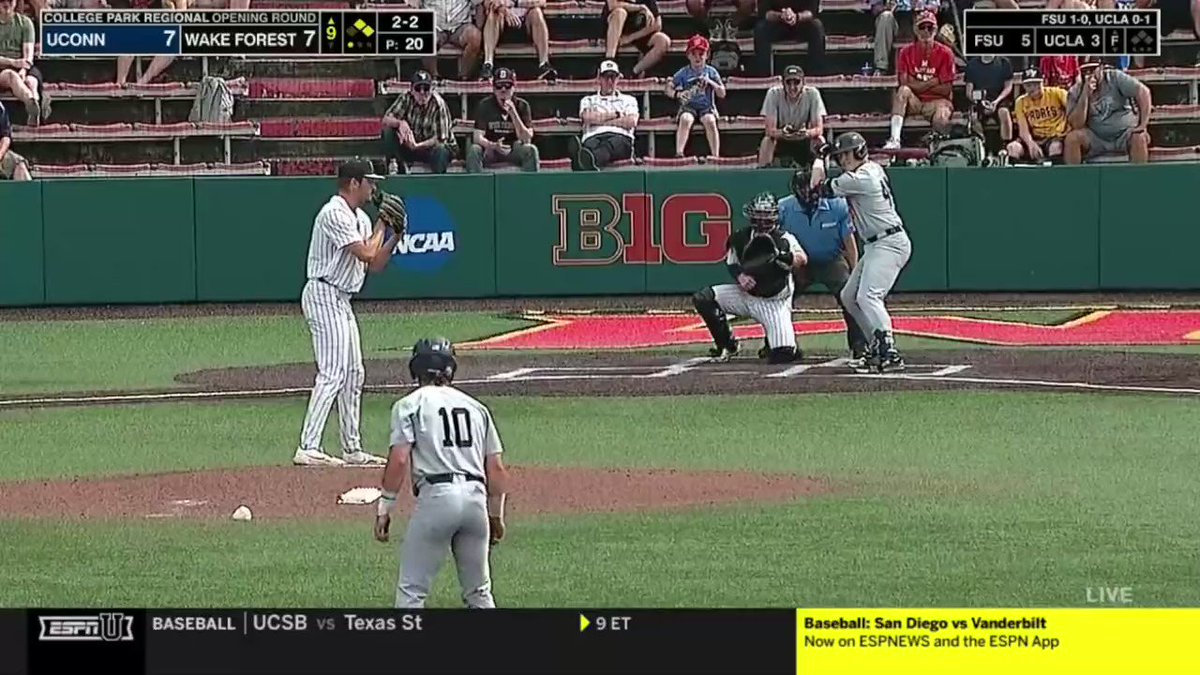 Minacci took the loss in he opener as he tried to the close the opening round game out vs. UConn where he went 1 inning giving up 1 run off 1 hit and 1 walk while striking out 1. Wake Forest lost to UConn then battled back to beat LIU in the elimination game and then lost to Maryland, where Minacci earned one more relief appearance going 0.2 innings giving up 2 runs off 2 hits and 2 walks while striking out 1. Wake Forest finished the year 41-19-1 overall. Minacci finished the year 2-4 with 6 saves out of the bullpen. He had 30 appearances on the year with a 2.18 ERA in 45.1 innings pitched with 59 strikeouts.

Derek Crum, Wake Forest


Crum didn't get any relief appearances in the Regional as Wake Forest lost to UConn, beat LIU and lost to Maryland to finish 41-19-1 overall. Crum finished the year with 20 appearances with a 6.97 ERA in 20.2 innings pitched with 21 strikeouts.